---
Since 2011, CCRIF has provided scholarships valued in excess of US$250,000 in total to the following persons to study at universities outside of the Caribbean:
Wazita Scott (Saint Vincent & the Grenadines) – MSc Atmosphere, Ocean and Climate, Reading University, UK
Mahendra Saywack (Guyana) – MSc Climate Change and Development, University of Sussex, UK
Annlyn McPhie (Grenada) – Master in Public Administration in Environmental Science and Policy, Columbia University, USA
Sean Hylton (Jamaica) – MSc Sustainability (Environment and Development), University of Leeds, UK
Germaine Maxwell (Saint Lucia) – MSc Risk Management, University of Southampton, UK
Delamine Andrew (Antigua & Barbuda) – MSc Sustainable Development (Climate Change & Risk Management), University of Exeter, UK
Viola Pascal (Jamaica) – MSc Risk, Crisis & Disaster Management, University of Leicester, UK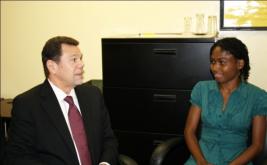 Photo shows Ms Wazita Scott conversing with Dr Warren Smith, then Board Member of CCRIF, at his office at the Caribbean Development Bank in August 2010. At that meeting, Dr Smith presented Ms Scott with her scholarship.
CCRIF-UWI Scholarship Programme
In 2010, CCRIF began its scholarship programme with University of the West Indies (UWI) to provide scholarships to students who are pursuing studies in catastrophe risk related undergraduate and graduate programmes at the University. Since then the Facility has provided a total of 26 scholarships to students at the Mona (Jamaica), St. Augustine (Trinidad & Tobago) and Cave Hill (Barbados) campuses. The total value of awards disbursed to date is US$238,250.
Guidelines for CCRIF-UWI Scholarships
---