Providenciales, Turks & Caicos Islands, May 25, 2017 – Today, the Caribbean Development Bank and CCRIF SPC (formerly the Caribbean Catastrophe Risk Insurance Facility) launched the Integrated Sovereign Risk Management in the Caribbean project.  This project seeks to enable all Caribbean countries to take a more proactive approach towards country risk management, moving beyond planning for natural disaster risks such as climate change and events like hurricanes and earthquakes and recognizing the intrinsic linkages between disaster risk and other types such as economic, technological and financial risks and the impacts of these on socioeconomic development, especially.
At the ceremony, which was held on the margins of the 2017 CDB Board of Governors Meeting, CDB President, Dr. William Warren Smith indicated that this project "will help Caribbean governments address their increased vulnerabilities caused by socioeconomic factors as well as the technological and economic interconnectedness of communities across regions and throughout the world."
Dr. Smith noted that CDB has strengthened its risk management infrastructure over the past few years by adopting an integrated enterprise risk management framework. The Bank will use this experience to support a holistic approach to risk management in Caribbean states. The proposed benefits of this project include maintaining country ratings; sharing risk intelligence and mitigation strategies across the region; and encouraging the adoption of a proactive forward-looking risk approach to country management in a way that would improve economic performance.
CCRIF CEO, Mr. Isaac Anthony stated that the project also "is intended to enable the countries in the region to become more resilient, by enhancing the capacity of governments to take a portfolio view on risks and include all risk categories – technical, economic, natural and social risks – and their interdependence in a geographic context." He further indicated that a key part of this new integrated risk management framework would be to establish country risk officers or coordinators within countries – that is senior level positions that will be responsible for managing the overall risk landscape, taking a holistic approach to risks before events occur and ensuring that countries adopt a more proactive, precautionary approach to anticipating future challenges.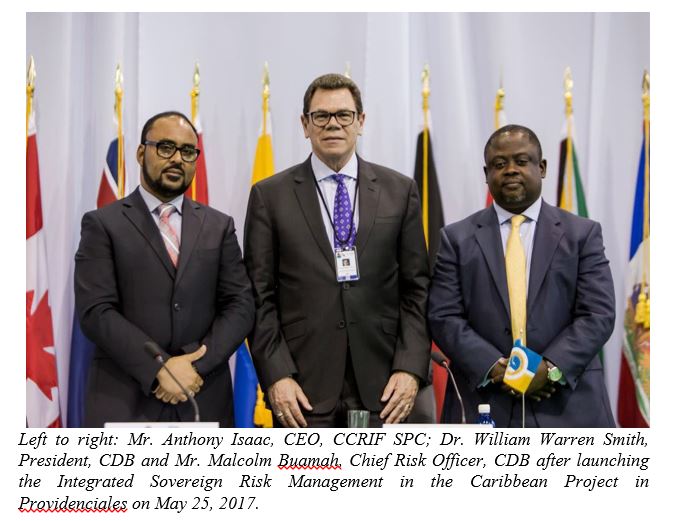 CDB Chief Risk Officer, Mr. Malcolm Buamah noted that the initiative provides a formal process that enables the establishment of an effective country management platform that aims to deliver sustained economic growth and performance over the medium to long term. It will also provide assurance to stakeholders and contribute to attracting competitive international financing and donor support. "CDB's success in enterprise risk management, complemented by CCRIF's success in disaster risk management, can be leveraged and transferred to the country platform to deliver significant economic and developmental benefits across the Caribbean."
A number of key activities will be implemented over the next few months to advance the implementation of this initiative – culminating in a regional conference on sovereign risk management for policy makers, which will provide an opportunity for these stakeholders to participate in the development of the standardized integrated risk management framework. 
About the Caribbean Development Bank: The Caribbean Development Bank (CDB) is a regional financial institution established in 1970 for the purpose of contributing to the harmonious economic growth and development of its Borrowing Member Countries (BMCs). In addition to the 19 BMCs, CDB's membership includes four regional non-borrowing members – Brazil, Colombia, Mexico and Venezuela – and five non-regional, non-borrowing members, i.e., Canada, China, Germany, Italy, and the United Kingdom. CDB's total assets as at December 31, 2015 are USD2.7 billion (bn). These include USD1.4bn of Ordinary Capital Resources and USD1.3bn of Special Funds. The Bank is rated Aa1 Stable with Moody's, AA+ Stable with Fitch Ratings and AA+ with Standard and Poor's.
About CCRIF SPC: CCRIF SPC is a segregated portfolio company, owned, operated and registered in the Caribbean. It limits the financial impact of catastrophic hurricanes, earthquakes and excess rainfall events to Caribbean and – since 2015 – Central American governments by quickly providing short-term liquidity when a parametric insurance policy is triggered. It is the world's first regional fund utilising parametric insurance, giving member governments the unique opportunity to purchase earthquake, hurricane and excess rainfall catastrophe coverage with lowest-possible pricing. CCRIF was developed under the technical leadership of the World Bank and with a grant from the Government of Japan. It was capitalized through contributions to a Multi-Donor Trust Fund (MDTF) by the Government of Canada, the European Union, the World Bank, the governments of the UK and France, the Caribbean Development Bank and the governments of Ireland and Bermuda, as well as through membership fees paid by participating governments. The Central America SP is capitalized by contributions to a special MDTF by the World Bank, European Commission and the governments of Canada and the United States. CCRIF is celebrating its 10th anniversary this year – 2017.