Grand Cayman, Cayman Islands, November 16, 2021. CCRIF celebrates the success of its 2021 Regional Internship Programme: "Providing Young Caribbean Nationals with Work Experience from Anywhere"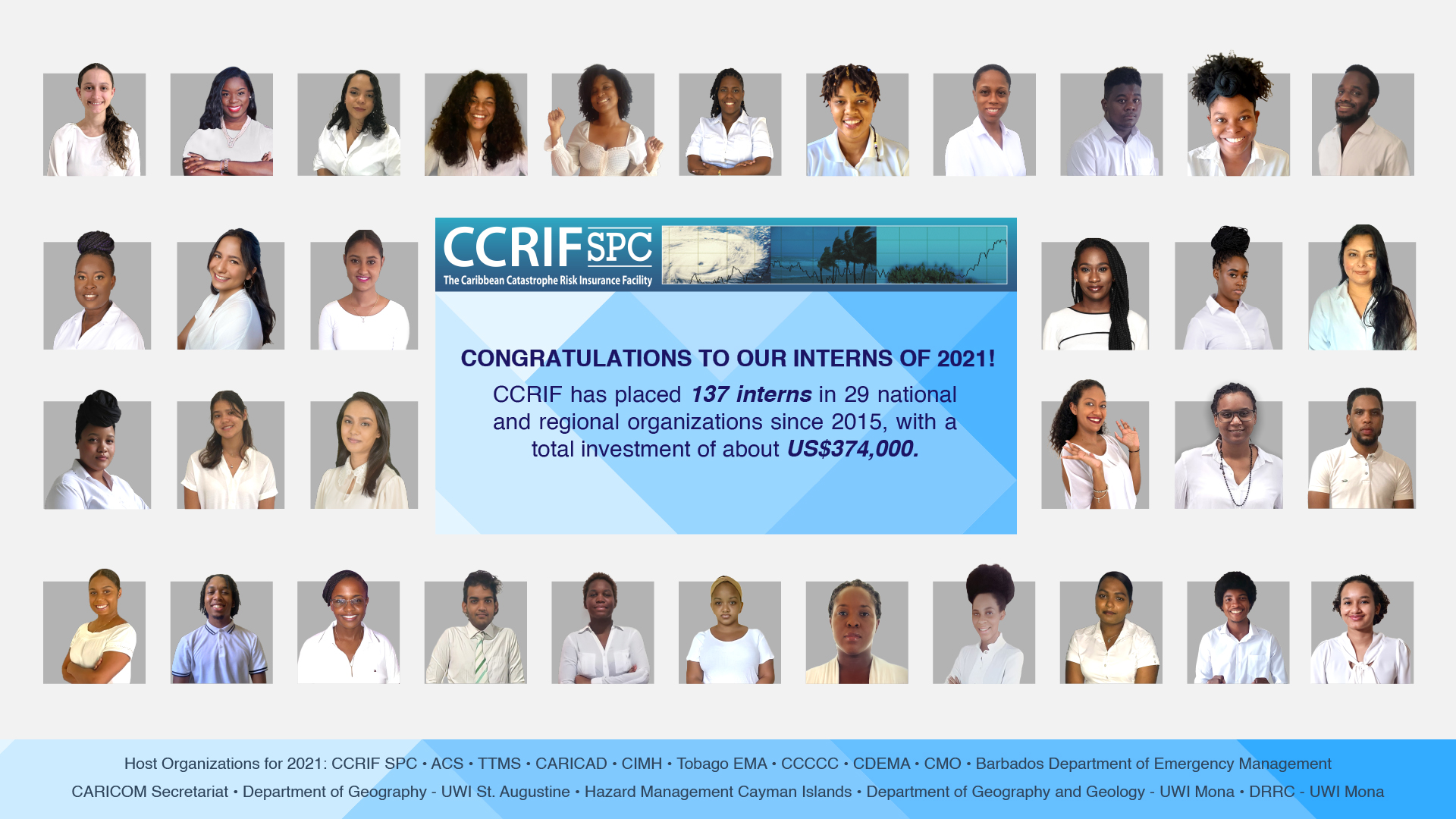 This year, CCRIF redesigned its internship programme to include virtual internships and was able to place 34 recent university graduates in regional and national organizations across the Caribbean, investing over US$65,000.

This year's programme is mostly virtual, with 31 interns working remotely with a national or regional organization in the Caribbean. The other 3 interns are part of on-site internships and are working face-to-face in their home country. Each intern spends at least 10 weeks with their host organization. Interns are working on exciting projects and assignments in areas such as early warning systems, environmental management, meteorology, disaster risk management, post-disaster relief and recovery, and climate change, among others.

This year, 15 organizations are hosting CCRIF interns, including 8 regional organizations, 3 departments/centres at The University of the West Indies (The UWI) and 4 national meteorology or disaster management agencies. Organizations hosting interns are: CCRIF, Association of Caribbean States (ACS), Caribbean Centre for Development Administration (CARICAD), Caribbean Institute for Meteorology and Hydrology (CIMH), Caribbean Community Climate Change Centre (CCCCC), Caribbean Disaster Emergency Management Agency (CDEMA), Caribbean Meteorological Organization (CMO), CARICOM Secretariat, Tobago Emergency Management Agency, Trinidad and Tobago Meteorological Service, Barbados Department of Emergency Management, Hazard Management Cayman Islands, and the following departments of The UWI: Department of Geography, St. Augustine; Department of Geography and Geology, Mona; and the Disaster Risk Reduction Centre (DRRC), Mona.

Each year, CCRIF invites organizations in the region to host interns and engage them to work on interesting projects and programmes. All interns are provided with stipends each month and those who travelled outside of their country pre-COVID were provided with airfare and accommodation for the period of their internship.

Since 2015, CCRIF has provided support totalling US$374,000 for 137 young university graduates to implement internships at 29 national and regional organizations.

CCRIF interns along with several other young university graduates in the region also benefited from an online summer course in disaster risk financing, titled "Introduction to Disaster Risk Financing", which was offered in collaboration with The UWI Open Campus over the period July 29 – August 19, 2021. This was the second year that CCRIF has offered the course, with 102 students participating this year. Persons who completed the course received a UWI/CCRIF Certificate and 2 continuing education units/credits. Later in November, CCRIF will host a forum for all of the 2021 interns to share experiences, best practices, lessons learned and, importantly, to expose these young professionals to new and emerging areas of work in disaster risk financing, insurance, shock-responsive social protection, and sustainable adaptation among other areas. CCRIF will use this opportunity to also share with them other professional development opportunities provided by the Facility that they can benefit from.

CCRIF's Regional Internship Programme provides opportunities for recent university graduates from the Caribbean who have earned degrees in courses of study such as disaster risk management, environmental management, actuarial science, geography, civil engineering, climate studies and other related areas to be assigned to national and regional organizations where their educational experience can be enhanced through practical work assignments and research projects. Host organizations benefit by receiving young, bright minds who can assist in them in various projects and programmes, achieving the organizations' targets, and sometimes completing tasks that have remained undone for years.

The internship programme is part of the Facility's wider Technical Assistance (TA) Programme, which provides scholarships to Caribbean nationals as well as support to member countries, regional organizations, non-governmental and community-based organizations, and academic institutions to develop and implement disaster risk management and climate change adaptation projects and programmes. The Facility has made a total investment of over US$6 million under its TA Programme since 2010.
About CCRIF SPC:
CCRIF SPC (formerly the Caribbean Catastrophe Risk Insurance Facility) is the world's first multi-country, multi-peril risk pool based on parametric insurance. CCRIF provides parametric catastrophe insurance for Caribbean and Central American governments, and for electric utility companies. CCRIF offers parametric insurance for tropical cyclones, excess rainfall, and earthquakes and for the fisheries and electric utilities sectors – insurance products not readily available in traditional insurance markets. The Facility operates as a developmental insurance company – as the goods and services it provides are designed to enhance the overall developmental prospects of its members. CCRIF has 23 members – 19 Caribbean governments, 3 Central American governments and 1 Caribbean electric utility company. Since its inception in 2007, CCRIF has made 54 payouts totalling US$245 million to 16 of its members. All payouts are paid within 14 days of the event.

CCRIF was developed under the technical leadership of the World Bank and with a grant from the Government of Japan. It was capitalized through contributions to a Multi-Donor Trust Fund (MDTF) by the Government of Canada, the European Union, the World Bank, the governments of the UK and France, the Caribbean Development Bank and the governments of Ireland and Bermuda, as well as through membership fees paid by participating governments. In 2014, a second MDTF was established by the World Bank to support the development of CCRIF SPC's new products for current and potential members and facilitate the entry of Central American countries and additional Caribbean countries. The MDTF currently channels funds from various donors, including: Canada, through Global Affairs Canada; the United States, through the Department of the Treasury; the European Union, through the European Commission, and Germany, through the Federal Ministry for Economic Cooperation and Development and KfW. Additional financing has been provided by the Caribbean Development Bank, with resources provided by Mexico; the Government of Ireland; and the European Union through its Regional Resilience Building Facility managed by the Global Facility for Disaster Reduction and Recovery (GFDRR) and The World Bank.