Bridgetown, Barbados, December 9, 2014 – Yesterday, CCRIF SPC (formerly the Caribbean Catastrophe Risk Insurance Facility) made an official presentation of US$1,284,882 to the Government of Barbados. This payment was due to Barbados under its excess rainfall insurance policy which was triggered by rains from a trough system that occurred in the Eastern Caribbean on November 21 and 22  2014. Barbados was the only CCRIF member country with an excess rainfall policy that was affected by this trough system.  

Mr. Martin Cox, Director of Finance and Economic Affairs and CCRIF Board members Mrs. Desirée Cherebin and Mrs. Faye Hardy participated in a brief cheque presentation ceremony at Government Headquarters yesterday morning.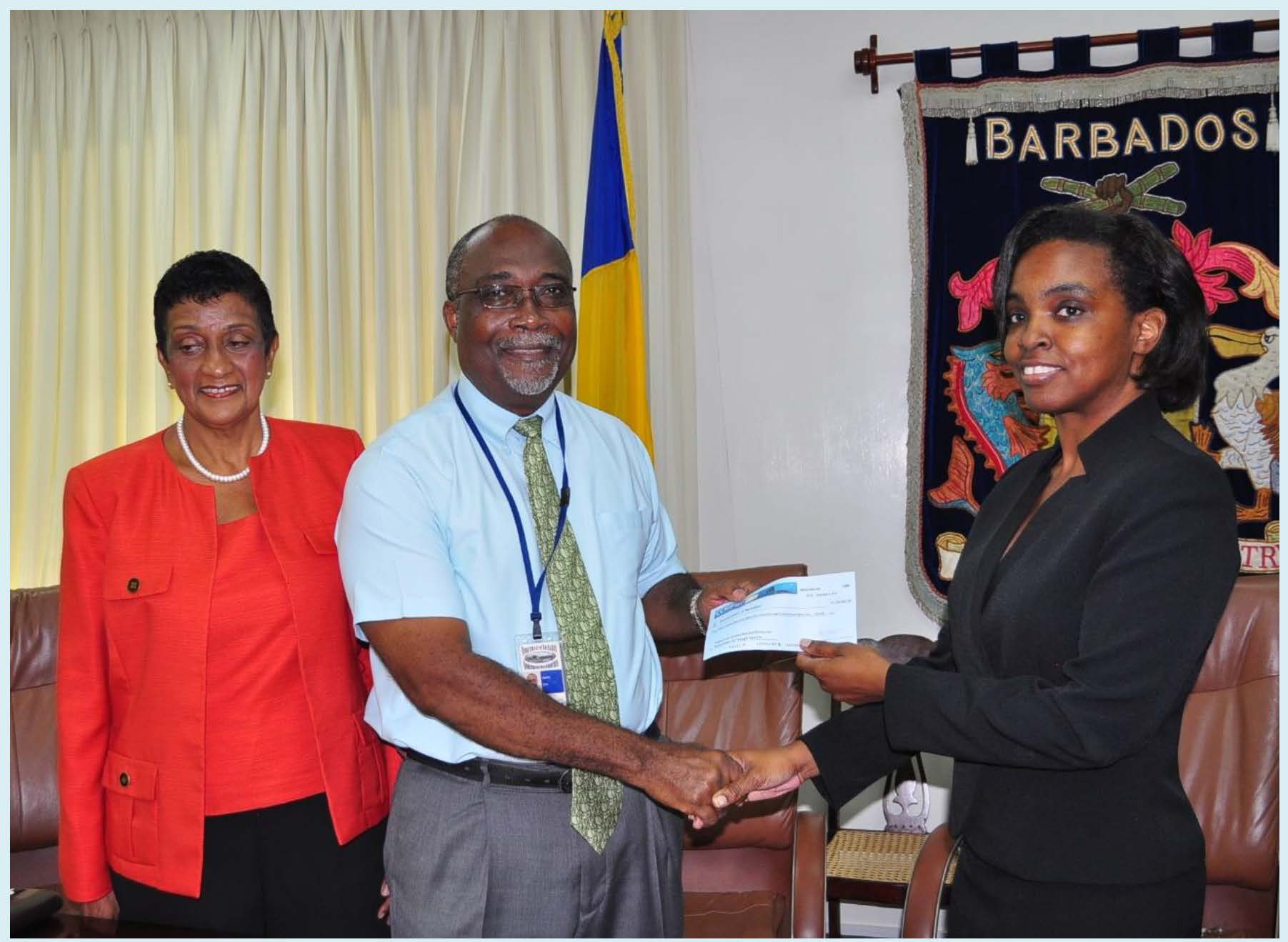 Mrs. Cherebin indicated that for many years, governments and other stakeholders in the region had been requesting CCRIF to provide rainfall coverage, recognising that rainfall often causes significant damage in the region. She stated that "We are pleased that CCRIF was able this year to offer its members parametric insurance coverage for excess rainfall in addition to its coverage for earthquakes and tropical cyclones." Mr. Cox stressed the importance of the payout to the Government: "This contribution to the Treasury comes at a good time and will no doubt help us recover from the impacts of these rains. The funds will go into the Consolidated Fund but we will arrange for the Ministry of Public Works to be able to use the resources for necessary repair work."

Other persons in attendance at the ceremony included representatives of Caribbean Risk Managers Ltd. (CCRIF's Facility Supervisor), and the heads of the Barbados Meteorological Service and Department of Emergency Management.

The excess rainfall product sold by CCRIF was developed in partnership with reinsurer Swiss Re and is based on the Caribbean Rainfall Model operated by Kinetic Analysis Corporation. It is aimed primarily at extreme high rainfall events of short duration (a few hours to a few days), whether they happen during a tropical cyclone (hurricane) or not.  
 
According to the Barbados Meteorological Services, on November 21 and 22, approximately 152 mm of rainfall was recorded at the Grantley Adams International Airport in the south of the island. The rainfall measurement from satellite data used as input to the Caribbean Rainfall Model over the same period in the corresponding area was 160 mm. However, for this period, the Rainfall Model produced maximum accumulated rainfall of 261 mm   in the northern parishes of Barbados. These values were well over the threshold rainfall value of 75 mm, where anything above that is considered "significant".

This payout brings to four the number of payments made by CCRIF this year on members' excess rainfall policies, totalling approximately US$3.4 million. Anguilla received two payouts – for Tropical Cyclone Gonzalo and a trough that occurred on November 7 – and St. Kitts & Nevis received a payment, also for the November 7 trough. Eight CCRIF member countries – Anguilla, Barbados, Dominica, Grenada, Haiti, Saint Lucia, St. Kitts & Nevis and St. Vincent & the Grenadines – purchased excess rainfall policies for the first time for the 2014/2015 policy year.
This is the second payout received by Barbados since CCRIF's inception in 2007. The Government received a payment in 2010 of over US$8.5 million on its tropical cyclone policy after the passage of Hurricane Tomas.

Mrs. Cherebin acknowledged that "in purchasing CCRIF insurance as part of its disaster management, Barbados has shown that it is taking a proactive approach to disaster management thereby minimising the effects of natural disasters on its growth prospects" and she urged regional governments to ensure "that they have in place comprehensive disaster management policies and plans and have adequate allocations in their budgets for disaster management and recovery to reduce their vulnerabilities to natural hazards. Mr. Cox signalled his agreement by saying that "the Government of Barbados will continue to contribute to CCRIF so that when events such as this occur, the country can potentially receive payments for recovery efforts."
 
About CCRIF SPC: CCRIF SPC is a segregated portfolio company, owned, operated and registered in the Caribbean. It limits the financial impact of catastrophic hurricanes, earthquakes and excess rainfall events to Caribbean governments by quickly providing short-term liquidity when a parametric insurance policy is triggered. It is the world's first regional fund utilising parametric insurance, giving Caribbean governments the unique opportunity to purchase earthquake, hurricane and excess rainfall catastrophe coverage with lowest-possible pricing. CCRIF was developed under the technical leadership of the World Bank and with a grant from the Government of Japan. It was capitalised through contributions to a multi-donor Trust Fund by the Government of Canada, the European Union, the World Bank, the governments of the UK and France, the Caribbean Development Bank and the governments of Ireland and Bermuda, as well as through membership fees paid by participating governments. Since the inception of CCRIF in 2007, the facility has made twelve payouts totalling US$34,287,592 to eight member governments. All payouts were transferred to the respective governments within two weeks after each event.
 Follow on twitter:@ccrif_pr   | Facebook: https://www.facebook.com/ccrif.org