Belize City, Belize, March 23, 2017
– CCRIF SPC (formerly the Caribbean Catastrophe Risk Insurance Facility) and the Government of Belize have signed an agreement for CCRIF to provide US$100,000 to the Government to purchase 40-50 automatic weather stations that will provide the Meteorological Service of Belize with access to real-time rainfall data.
A ceremony to mark the signing took place on March 21st during CCRIF's quarterly Board meetings, which are held in different CCRIF member countries. CCRIF Chairman, Mr. Milo Pearson, indicated that doing so enables the CCRIF Board and Team to deepen their interactions with national stakeholders and spend time addressing any concerns that members may have. 
On behalf of the Government, Ms. Yvette Alvarez, Senior Advisor to the Ministry of Finance, expressed appreciation for CCRIF's support. CCRIF CEO, Mr. Isaac Anthony reiterated that over the past 10 years, CCRIF has had a fruitful relationship with the Government of Belize and stated that he was pleased to partner with Belize in this endeavour. He noted that the Met Service had indicated that this will significantly improve the Government's ability to monitor, record and forecast rainfall within Belize and better prepare the country for hydrometeorological events.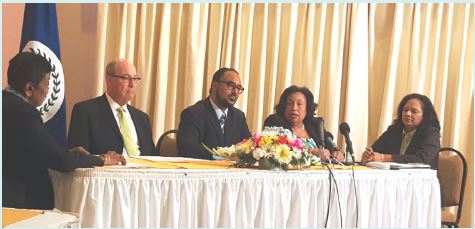 L-R: Mrs. Desirée Cherebin, CCRIF Board Member; Mr. Milo Pearson, Chairman, CCRIF SPC; Mr. Isaac Anthony, CEO, CCRIF SPC; Ms. Yvette Alvarez, Senior Advisor to the Ministry of Finance; and Ms. Alma Gomez, Supervisor of Insurance, Ministry of Finance at the signing ceremony for a grant agreement between CCRIF and the Government of Belize

Other persons attending the ceremony included Ms. Alma Gomez, Supervisor of Insurance and Ms. Catherine Cumberbatch and Mr. Derek Rudon from the Belize Meteorology Service as well as members of the CCRIF Board of Directors and other CCRIF representatives.

In addition to this recent grant, CCRIF has provided other technical assistance to Belize. In 2010, CCRIF provided assistance to the Government to support the Meteorological Service by providing scholarships to two meteorologists, Michele Smith and Shanea Young to complete a Bachelor of Science degree in Meteorology at the University of West Indies. Ms. Young built on this opportunity and in 2015, through CCRIF's Scholarship Programme, was awarded a scholarship to pursue a Master of Science degree in Applied Meteorology at the University of Reading.
 
Belize has been a member of CCRIF since 2007 and currently has CCRIF insurance policies for tropical cyclones and excess rainfall – the latter purchased for the first time last year. The excess rainfall policy was triggered by rains associated with Hurricane Earl in August 2016, resulting in a payout of US$261,073. Mrs. Alvarez noted "As people who sit in the Ministry of Finance who have to find the funds to deal with all that happens after a hurricane, those funds, though small, were welcomed.  We've never collected under the tropical cyclone part of the policy but we are convinced that it is a policy that we would want to renew on a continuing basis and we continue the dialogue with CCRIF as we look into other products that they are exploring." Discussions about policy renewals for 2017/2018 began with a meeting on March 20th between CCRIF and the Government. Mr. Anthony congratulated the Government on being proactive and constructive, saying "I am really heartened by the indication of the Government in terms of the interest to continue their participation in [CCRIF]."
 
About CCRIF SPC: CCRIF SPC is a segregated portfolio company, owned, operated and registered in the Caribbean. It limits the financial impact of catastrophic hurricanes, earthquakes and excess rainfall events to Caribbean and – since 2015 – Central American governments by quickly providing short-term liquidity when a parametric insurance policy is triggered. It is the world's first regional fund utilising parametric insurance, giving member governments the unique opportunity to purchase earthquake, hurricane and excess rainfall catastrophe coverage with lowest-possible pricing. CCRIF was developed under the technical leadership of the World Bank and with a grant from the Government of Japan. It was capitalized through contributions to a Multi-Donor Trust Fund (MDTF) by the Government of Canada, the European Union, the World Bank, the governments of the UK and France, the Caribbean Development Bank and the governments of Ireland and Bermuda, as well as through membership fees paid by participating governments. The Central America SP is capitalized by contributions to a special MDTF by the World Bank, European Commission and the governments of Canada and the United States.