Grand Cayman, Cayman Islands, May 30, 2018. CCRIF CEO, Mr. Isaac Anthony received the Influential Individual of the Year Award at the Reactions 7th Latin America Re/Insurance Awards event held in Miami on May 24th. According to Reactions, the award was provided "in light of the work the organisation has done to provide post-disaster relief to the various islands within its pool membership that were impacted by the devastation wreaked by Hurricanes Irma and Maria". Reactions is a specialist global insurance news publisher and brand title owned and operated by Euromoney Institutional Investor Plc. It is an established and reputable pillar of the global insurance and reinsurance industry and provides breaking news, specialist insight and detailed analysis for re/insurance underwriters, re/insurance brokers and capital market participants in addition to firms that provide services to the re/insurance industry.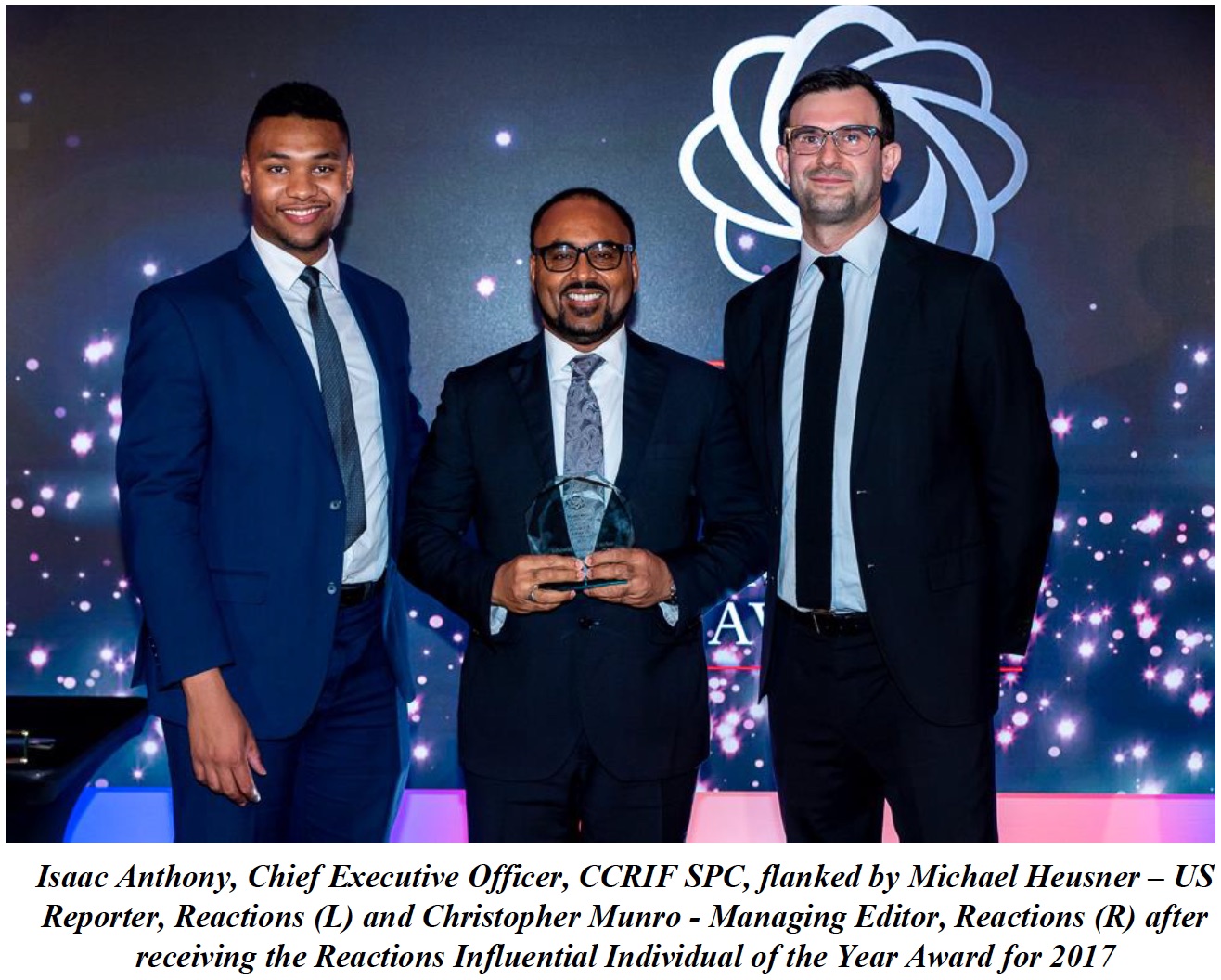 Following Tropical Cyclones Maria and Irma in 2017, which moved through the Caribbean within two weeks of each other, CCRIF made payouts totalling US$55 million to 9 member governments on their tropical cyclone and/or excess rainfall policies – including over US$19 million to Dominica and more than US$15 million to the Turks and Caicos Islands. Also last year in October, CCRIF made a payout of US$7 million to Trinidad and Tobago after rains described as "unprecedented" by local officials. Even after making these payouts all in one year, CCRIF remains financially solvent with its long-term sustainability intact.
CCRIF SPC provides parametric catastrophe insurance cover against hurricanes, earthquakes and excess rainfall for Caribbean and Central American governments. Since CCRIF's inception in 2007, it has made payouts totalling US$130.5 million to 13 member governments – all within 14 days of the event.
Unlike indemnity insurance, CCRIF's parametric insurance products are insurance contracts that make payments based on the intensity of an event and the amount of loss calculated in a pre- agreed model caused by these events. CCRIF represents a cost-effective way to pre-finance short-term liquidity to begin recovery efforts for an individual government after a catastrophic event, thereby filling the gap between immediate response aid and long-term redevelopment.
Whilst payouts are relatively small compared to the overwhelming cost of rebuilding, the rapid infusion of liquidity can address immediate priorities. CCRIF was not designed to cover all the losses on the ground – but rather to allow governments to reduce their budget volatility and to guarantee sufficient capital for emergency relief thereby reducing post-disaster resource deficits.
To date, countries that have received payouts have used those funds in a variety of ways and many of these governments have used their social protection systems to assist with ensuring that the most vulnerable have received support. For example, some governments have used payouts to repair critical infrastructure, including bridges and roads, and institute mitigation measures to increase their country's resilience to future disasters. Other governments have used the CCRIF funds to provide humanitarian aid. The Government of Haiti, for example, used about 50 per cent of their $US23 million payout after Hurricane Matthew to assist 1.4 million individuals directly by purchasing medicine for children and providing shelter and materials to repair citizens' roofs. Also following Matthew, the Government of Saint Lucia, through their Ministry of Agriculture, used their payout of US$3.7 million to provide support to farmers impacted by the hurricane. Most recently, in 2017, the Turks and Caicos Islands Government used their payouts for Hurricanes Irma and Maria to repair 14 schools across the Territory.
The presentation of the awards followed the Seventh Annual Latin American Insurance and Reinsurance Forum hosted by Reactions and Euromoney Seminars, which brought together insurance and reinsurance professionals from throughout Latin America. Mr. Anthony participated in a panel discussion that focused on reducing the protection gap in Latin America: accessing, educating and tailoring solutions for the most vulnerable individuals in the region. He highlighted the ways in which CCRIF SPC is assisting its member governments in the Caribbean and Central America and their citizens to obtain protection against natural hazards and climate change impacts.
About CCRIF SPC: CCRIF SPC is a segregated portfolio company, owned, operated and registered in the Caribbean. It limits the financial impact of catastrophic hurricanes, earthquakes and excess rainfall events to Caribbean and – since 2015 – Central American governments by quickly providing short-term liquidity when a parametric insurance policy is triggered. It is the world's first regional fund utilising parametric insurance, giving member governments the unique opportunity to purchase earthquake, hurricane and excess rainfall catastrophe coverage with lowest-possible pricing. CCRIF was developed under the technical leadership of the World Bank and with a grant from the Government of Japan. It was capitalized through contributions to a Multi-Donor Trust Fund (MDTF) by the Government of Canada, the European Union, the World Bank, the governments of the UK and France, the Caribbean Development Bank and the governments of Ireland and Bermuda, as well as through membership fees paid by participating governments. In 2014, an MDTF was established by the World Bank to support the development of CCRIF SPC's new products for current and potential members, and facilitate the entry for Central American countries and additional Caribbean countries. The MDTF currently channels funds from various donors, including: Canada, through the Department of Foreign Affairs, Trade and Development; the United States, through the Department of the Treasury; the European Union, through the European Commission, and Germany, through the Federal Ministry for Economic Cooperation and Development. In 2017, the Caribbean Development Bank, with resources provided by Mexico, approved a grant to CCRIF SPC to provide enhanced insurance coverage to the Bank's Borrowing Member Countries that insure through CCRIF against tropical cyclone, earthquake and excess rainfall risks.