Grand Cayman, Cayman Islands, March 29, 2023. On Thursday March 16, 2023, CCRIF SPC and CEPREDENAC (the Coordination Center for the Prevention of Disasters in Central America and the Dominican Republic) signed a Memorandum of Understanding on the margins of the CCRIF Regional Technical Workshop for Central America on Disaster Risk Financing and CCRIF Parametric Insurance held in Panama City, Panama, on March 15 and 16, 2023.
CEPREDENAC is the specialized institution of the Central American Integration System (SICA) for natural disaster prevention, mitigation, and response. The Governments of Costa Rica, El Salvador, Guatemala, Honduras, Nicaragua, Panama, and the Dominican Republic are active members, while Belize is in the process of becoming a member. CEPREDENAC's inter-sectoral agenda is harmonized with other specialized regional entities in areas such as hydrological resources, agriculture, nutrition, and food security. CEPREDENAC is akin to the Caribbean Disaster Emergency Management Agency (CDEMA) in the Caribbean, with which CCRIF has had an MOU since 2009 (when it was known as the Caribbean Disaster Emergency Response Agency – CDERA).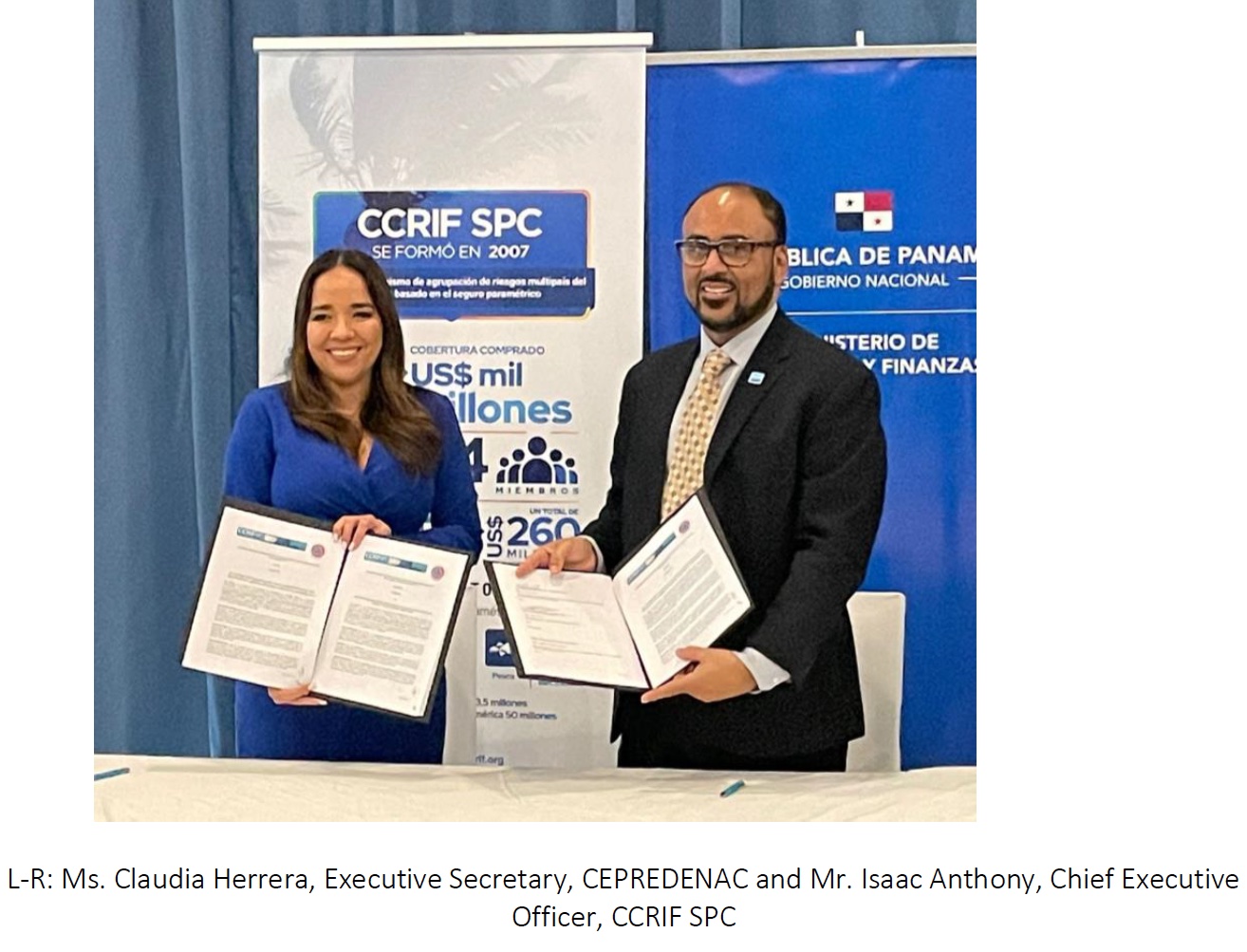 CCRIF CEO Mr. Isaac Anthony views this MOU as an important step towards collaboration between the Caribbean and Central America, and says, "We are pleased to formalize this partnership between CCRIF and CEPREDENAC, which will facilitate South-South cooperation and be a bridge for the Caribbean and Central America. It will encourage us to share knowledge, lessons learned, and good practices and more importantly, will be a key conduit to enable the two regions to work together on solutions to common challenges that they face as they seek to financially protect their economies, peoples, and communities from the impacts of natural hazards".
The focus of the MOU between CCRIF and CEPREDENAC is to:
Enhance institutional strengthening through data sharing and knowledge exchange.
Facilitate the exchange of experiences, lessons learned and best practices in disaster risk management, risk transfer and insurance within the context of advancing sustainable development in Central America and the Dominican Republic to share with members and introduce robust solutions for disaster risk financing and insurance such as those CCRIF provides to protect and increase financial resilience.
Enhance and strengthen the understanding of each organization's mandate amongst each entity's core stakeholders.
Provide information on the work of each organization through various communication media.
Raise awareness of CCRIF in Central America and the Dominican Republic through information sharing related to research, exchange programmes, and horizontal cooperation programmes.
Advance partnership building through South-South cooperation by facilitating the exchange of technology and knowledge among the countries of Central America and the Caribbean.
Promote activities and programmes that align with the tenets of the Sendai Framework for Disaster Risk Reduction and the 2030 Agenda for Sustainable Development.
At the signing of the MOU, Ms. Claudia Herrera, Executive Secretary of CEPREDENAC, said, "For us at CEPREDENAC, this is a historic moment that we wish to underscore. This MOU is especially important for us as it will help us to promote investments that will take risk into account. One of our expectations and interests in establishing this MOU is to sensitize and make more visible the role of disaster risk management in achieving our development goals".
CCRIF has MOUs with 14 organizations in the Caribbean, including CDEMA, The UWI, Organization of Eastern Caribbean States Commission, Caribbean Regional Fisheries Mechanism, and Caribbean Institute for Meteorology and Hydrology, among others. In 2015, CCRIF signed an MOU with the Council of Finance Ministers of Central America, Panama and Dominican Republic (COSEFIN), which enabled Central American countries to join CCRIF and access its parametric insurance products for tropical cyclones, earthquakes and excess rainfall. Currently, three Central American countries are members of CCRIF – Nicaragua, Panama and Guatemala.
Since its inception in 2007, CCRIF has made 58 payouts totalling US$260 million to 16 of its 22 member governments. Central America governments have received eight of these payouts totaling US$47.5 million (18.3% of total payouts). The largest payout made by CCRIF to Central America was US$19.9 million to Nicaragua following Tropical Cyclone Iota in 2020. Nicaragua has received a total of 6 payouts from CCRIF since it joined the Facility in 2015.

About CCRIF SPC:
CCRIF SPC is a segregated portfolio company, owned, operated and registered in the Caribbean. It limits the financial impact of catastrophic hurricanes, earthquakes and excess rainfall events to Caribbean and Central American governments by quickly providing short-term liquidity when a parametric insurance policy is triggered. It is the world's first regional fund utilising parametric insurance, giving member governments the unique opportunity to purchase earthquake, hurricane and excess rainfall catastrophe coverage with lowest-possible pricing. CCRIF was developed under the technical leadership of the World Bank and with a grant from the Government of Japan. It was capitalized through contributions to a Multi-Donor Trust Fund (MDTF) by the Government of Canada, the European Union, the World Bank, the governments of the UK and France, the Caribbean Development Bank and the governments of Ireland and Bermuda, as well as through membership fees paid by participating governments. In 2014, a second MDTF was established by the World Bank to support the development of CCRIF SPC's new products for current and potential members and facilitate the entry of Central American countries and additional Caribbean countries. The MDTF currently channels funds from various donors, including: Canada, through Global Affairs Canada; the United States, through the Department of the Treasury; the European Union, through the European Commission, and Germany, through the Federal Ministry for Economic Cooperation and Development and KfW. Additional financing has been provided by the Caribbean Development Bank, with resources provided by Mexico; the Government of Ireland; and the European Union through its Regional Resilience Building Facility managed by the Global Facility for Disaster Reduction and Recovery (GFDRR) and The World Bank.